Juventus confirm Paul Pogba's surgery was 'a complete success' but it's still unclear how long the France international will remain out of action.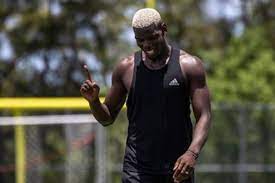 Pogba decided to undergo surgery today following his second day of training on the pitch at Continassa. The results of conservative therapy were not satisfying, so the France international went under the knife.
This evening, Paul Pogba underwent selective external arthroscopic meniscectomy. The surgery, performed by Prof. Roberto Rossi in the presence of the Juventus Team Doctor, Luca Stefanini was a complete success.
It's still unclear how long the ex-Manchester United striker will remain out of action. According to Sky Sport Italia, he could be back in six weeks, so, on paper, on time for Qatar 2022.
However, Pogba decided against undergoing surgery last month to avoid the risk of missing out on the Word Cup.
"I don't know if he'll play in the World Cup, but it's not my problem, I know he'll be back in January for Juventus," Max Allegri said at a press conference today, on the eve of a Champions League clash with PSG.
Pogba returned for a second spell at Juventus this summer after the end of his contract with Manchester United. He has signed a contract until 2026.